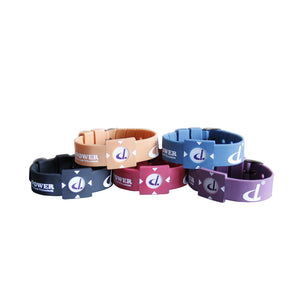 Energy Power Balance Golden Ion Titanium Bracelets Slipknot tourmaline - DL1302 [EXW Price]
Sale price Price $16.99 Regular price
Energy Power Balance Slipknot tourmaline Bracelets Titanium Ion Far-infrared Function More than 1000 CC Colorful.
It's also knowed as positive energy bracelet, five elements bracelet, anion bracelet which can release anion. Function: Promote the blood circulation. Increased body balance ability and emergency ability. Decrease the pain Increasing physical fitness and promote acid decomposition. Efficient antifatigue Balance the central nervous system
Name : DL Brand Bracelets
Size : Length 20.6cm
Color: Black,Dark blue , Orange, Purple, Red
Negative Values: > 1000 cc  (Real power and Energy because of the Negative Ion)
This is Golden Titanium Bangles , We used for Sports to balance and release Wrist muscle . It could be used for sport matching or just keep health daily. Good for you to keep health .
Main ingredients:
1.Golden Titanium
2.Watch steel
Efficacy:
1.Far infrared to increase the blood permeability
2.Relax the tense muscles
3.Improvement of microcirculation
4.Promote the systemic circulation
5.Pain relief, increased balance of body
6.Reconcile Nerve
7.Decomposition Toxin
8.Negative ion infiltration of the skin, Neutralization the human body acid,Balance the body pH
9.Purify the air, removing bacteria
10.Antioxidant
11.Decorative
Function principle:
1.Gold nanoparticles can be effectively reflected, refracted ray, thereby increasing the penetration ability of negative ions and infrared
2.Nano titanium release Stable and effective negative ion
3.The water molecule is formed around the tourmaline and the negative electric field always effective
4.Nano gold high activity and conductivity
5.The use of light, temperature, catalyst, so that the energy is activated
Producing time : 20-45 days in normal. 
There may be SOME EXTRA fee if OEM requirement . 
You could just order to have a list without payment , and to tell us with the order No.. that will be more easier to get your requirement and helpful to work out the freight cost .  :)